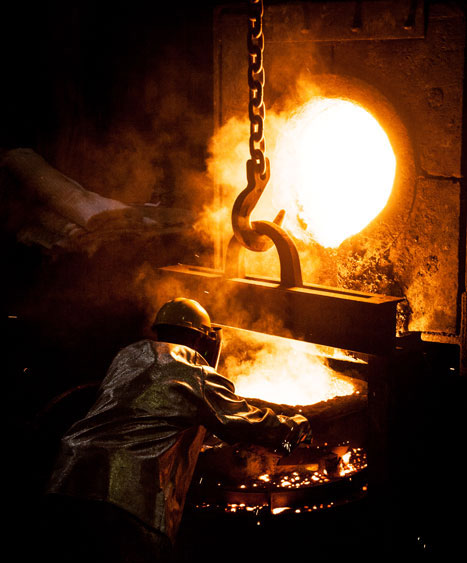 More than ever, these three things spell the difference between a job well done and a decline in your business.
At Weatherly Casting, we value your time. We respect your budget. And no one beats our quality.
We've built a solid reputation by finishing projects on time and on budget – and, most importantly, with the highest quality possible.
Our wide range of foundry capabilities gives us the flexibility to meet the most demanding customer requirements for castings in any alloy.
We're proud of our reputation because it is forged by the hard work and dedication of our employees. We strive for excellence in everything we do, from committment to safety standards to environmentally-conscious, sustainable manufacturing.
But what makes us most proud is that our reputation is confirmed by the feedback from clients who have presented us with some of the most challenging and complex projects.
Many of our clients used other foundries in the past because of attractive prices or promises of shorter timetables. They then chose Weatherly Casting because spending a little less was not worth the tradeoff in quality, and, many times, those promises of shorter timetables led to missing deadlines on projects.
We don't cut corners. We don't scrimp when we're mixing our alloys. And we won't sacrifice quality for speed.
If your project won't work as designed, then we won't pour it – we will tell you and we will work with you to make it right.
Our employees adhere to a very strict "Zero Escaping Defects" policy. Our workers have worked an average of 20 years in our foundries, so they're experts at identifying flaws that may render a part unsuitable for commercial use. At Weatherly Casting, any production worker can flag a questionable indication for review by our Quality Management Team.
Although sand casting is not a perfect process at any foundry, we have perfected numerous procedures to limit variations in our process control, ultimately providing the greatest quality and value to our customers.
Every heat of metal is analyzed using a spectrometer to verify its precise chemical makeup before any project is cast.
Our engineering staff can perform a series of non-destructive tests to ensure a casting's integrity and fitness for use. Tests include metallography and mechanical testing, dye penetrant inspection (PT), magnetic particle (MT), ultrasound (UT), and radiography. Castings that will operate under pressure, such as pump casings and valve bodies, can be hydrostatically tested on request. Dynamic and static balance of rotating parts, such as impellers, can also be performed on site.
For us, quality is not graded on a subjective scale from high to low. Either a product conforms to our strict requirements or it does not.
That's how we earned our reputation.
Let us make you a believer.